Alternative Royal Wedding souvenirs – Prince William and Kate memorabilia on sale now
17 December 2010
No Comment
Alternative Royal Wedding memorabilia – perfect Christmas gifts for your household staff, Ladies-in-Waiting & corgis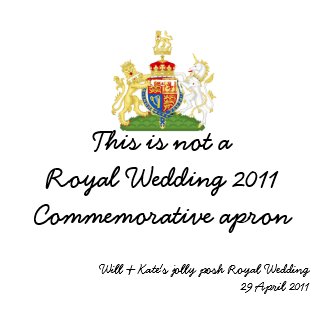 This is not a Royal Wedding commemorative apron
by
Mr and Mrs Wales
Mr and Mrs Wales is absolutely thrilled to announce the launch of its delightfully unofficial and alternative Royal Wedding 2011 merchandise!
William and Kate's jolly posh Royal Wedding t-shirts
These are not Royal Wedding Souvenir Aprons
Buy a jolly posh Royal Wedding mug
Make sure your Corgis look smart for winter with Mr and Mrs Wales dog gifts
Daddy, aka King John IV, tells me it's going the coldest winter since 1947. My corgis are going to get frightfully cold, and so I've designed these darling Royal Wedding doggie jackets. This dog coat is the perfect Christmas gift for pooches with royal aspirations. For the complete Royal look, why not accessorize it with a grey curly wig and pearls on April 29th? It's a darling alternative to all those mongrels out there.
Well that's just a sample of Mr and Mrs Wales's alternative Royal Wedding souvenirs, why not complete your Christmas shopping by heading to the Mr and Mrs Wales shop to buy your memorabilia now!